LOOKING TO OWN YOUR OWN HAIR CARE LINE? TRY MARONTI PRIVATE LABEL
Private label products are created by one company or made available by a third party company and sold under your brand name.
Maronti wants to help you to start your business by expanding your brand with possibilities of high profits, customer loyalty, making money by up-selling while having quality products. These products are mostly organic, salon-grade tested, and approved by a master stylist with over 20 years in the beauty industry.
Our featured product is our Growth Oil. This oil stimulates blood to the scalp which promotes growing hair. It is an anti-inflammatory and feed hair follicles for hair growth. This Oil is a great addition to your product line.
YOU WANT TO SAMPLE BEFORE YOU BUY IN BULK? PURCHASE OUR SAMPLE KIT TODAY!
Order Sample
READY TO ORDER? DO YOU NEED LABELS? FOLLOW THESE STEPS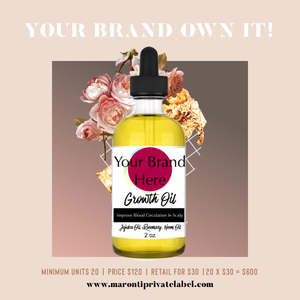 STEP 1
WHAT PRODUCTS DO WE NEED?
 We Offer 9 products. All are paraben-free, sulfate-free, color safe & 4C Hair approved. The amount of product offered to allow you to have a full product line if needed or the choice of a few pieces. We offer Organic Moisturizing Shampoo, Organic Moisturizing Conditioner, Edge Control, Growth Oil, Argan Serum, Foam Mousse, Organic Co-Wash/Conditioner Detangler, Organic Twist Cream, and Organic Curl Custard. These products are salon quality used for  Hair Growth, Damage Repair, Protective Styling, Silk Press, Wash & Go, Twits-Out and more. 
Price Is Easy And Affordable
20 Units starting at $120, That's It!
Order Bulk Products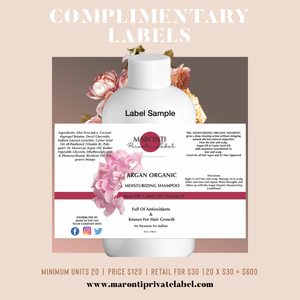 STEP 2
DO WE NEED LABELS?
Because we want the process of labeling to be easy for you as a new small business, we offering complimentary labels when you purchase over 200 units or more in total. Please note that there is a basic standard for our labels. Our label is printed on white waterproof polyester paper with the white, black and basic color background with one or more small character art icons (See sample labels under the Label Tab). What we need from you to get started is your logo on a white transparent background PDF file, your name of each product and your label choice. 
MORE LABEL INFO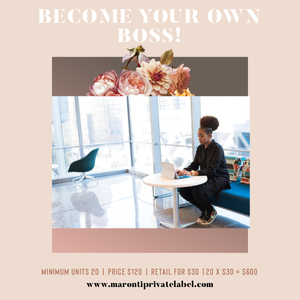 STEP 3
ARE WE READY TO START SELLING?
While you are waiting on your products to arrive, get firm on your business name. How will your business stand out. It is also a great time to get your online website together.  If you will be doing your own website, We recommend Shopify, Wix or even Godaddy (just a recommendation). If you are doing your own labels, its a great time to start getting them designed per your specifications, that way once your products are received you can start selling. You Are A Boss Now. Start marketing your business through social media, and other forms. Get the word out their with your family and friends to start. Do what you can to market your new product line. Check out our Marketing Blog for helpful tools and tips.
Marketing Blog
Maronti Private label products
"Branding yourself is your self-worth"
"A big business starts small."

Richard Branson
"Spend time upfront to invest in systems and processes to make long-term growth sustainable."

Jeff Platt
"There is no finish line. There are only mile markers."

Michael Ventura
Know What Products Work Great Together!
From Hair Growth Oil, Edge Control, Protective Styling, Silk Press and Braids. Maronti Private Label Products has you covered. Learn what products you can pair together. This will help you brand and promote your new product line as a set. As you see The Foam Mousse is used for Twist Out, Silk Press and Wash and Go. The 4 in 1 Mousse product is dual and flexible. One of the Best Products we offer. Order a sample today.