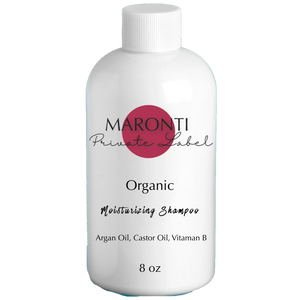 ****This is a Sample Orders: SAMPLE ORDERS ARE MADE TO ORDER THEREFORE THEY TAKE UP TO TWO TO THREE WEEKS TO SHIP OUT. THIS IS DUE TO DEMAND, PRODUCTION & BOTTLE FILLING. PLEASE TAKE NOTE WHEN YOU ORDER. ***** Are you ready to start your own HairCare Line? Private labeling may be right for you. It starts with our top ORGANIC MOISTURIZING SHAMPOO. This ORGANIC SHAMPOO gives a deep cleaning action without stripping natural oils but removes impurities from the hair and scalp. Argan Oil & Castor Seed Oil adds maximize nourishment to hair and scalp. Great for all hair types and 4C Hair Approved.
Sulfate and Paraben-Free
Directions:
Wet hair. Apply a generous amount of Shampoo on hair and work through until hair lathers. Repeat. Rinse thoroughly and follow up with the Moisturizing Conditioner.
Organic Moisturizing Shampoo Ingredients:
Aloe Vera Juice, Cocamidopropyl Betaine, Decyl Glucoside, Sodium Lauroyl Lactylate, Castor Seed Oil, dl-Panthenol (Vitamin B), Polyquart 10, Moroccan Argan Oil, Kosher Vegetable Glycerin, Ethylhexylglycerin & Phenoxyethanol, Ricebran Oil, Mango Fragrance
**All prices are subject to change.
​**All sales are final therefore there are no refunds even if you did not mean to purchase.