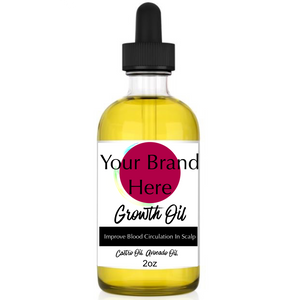 ****This is a Sample Orders: SAMPLE ORDERS ARE MADE TO ORDER THEREFORE THEY TAKE UP TO TWO TO THREE WEEKS TO SHIP OUT. THIS IS DUE TO DEMAND, PRODUCTION & BOTTLE FILLING. PLEASE TAKE NOTE WHEN YOU ORDER. ***** Are you ready to start your own Growth Oil Line? Private labeling may be right for you. It starts with our top Organic Stimulating Growth Oil. This oil is the truth, light, and effective. Black Cast Oil & other Essential Oil can improve blood circulation in the scalp and promote hair growth by stimulating the hair follicles. It is very regenerative to hair and the scalp that has been damaged. Great for all hair types and beards. 4C Hair Approved.
 How to Apply:
This Organic Stimulating Growth Oil Can be used on wet or dry hair and as a hot oil treatment.  Warm-up 1-3 drops of Nourishing Botanical Growth Oil between the palms of your hands by rubbing them together then apply to hair. For the scalp, apply a few drops to the scalp and massage until absorbed.
For Hot Oil Treatment: Apply oil to the scalp, cover with a plastic cap, then sit under a hood dryer for up to 30 min. 
Stimulating Growth Oil Ingredients:
Ingredients: Organic Black Castor Oil, Organic Sunflower Oil, Organic Cocos Nucifera (Coconut) Oil, Olea Europaea (Olive) Fruit Oil, Organic Butyrospermum Parkii (Organic Shea Butter), Avocado Oil, Vitamin E, Fragrance Mango
**All prices are subject to change.
​**All sales are final therefore there are no refunds even if you did not mean to purchase.